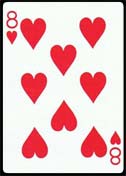 Properties of 8 of Hearts
Alternate Names:
Indolence
Keywords / Additional Meanings:
invitations, but also partings, parties or celebrations
Description:
This card could represent either invitations or partings. Instability and the abandonment of success are indicated. There may be minor victories coupled with setbacks. At least the glass can be filled half way, so try to look on the bright side.
Astrological / Elemental Correspondence:
Saturn in Pisces