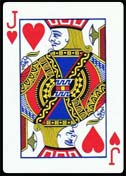 Properties of Jack of Hearts
Alternate Names:
None
Keywords / Additional Meanings:
fair haired young person, good friend, a close or long-lost friend
Description:
This Jack indicates a fair-haired younger person whether male or female. This may be a kind, attractive, and romantic person. Perhaps this represents a close friend. This person may appear calm and cool, but under the surface they are concealing a brooding passion.
Astrological / Elemental Correspondence:
Scorpio – Air of Water