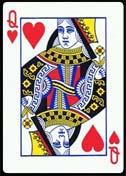 Properties of Queen of Hearts
Alternate Names:
None
Keywords / Additional Meanings:
fair haired woman, trustworthy, faithful loving woman, gentle and pleasing
Description:
This card suggests a fair-haired woman with a gentle and pleasant personality. She is almost stereotypically passive and receptive. This card is particularly influenced by the energies of the adjacent cards in a reading. She may have the heart of a poet.
Astrological / Elemental Correspondence:
Cancer – Water of Water