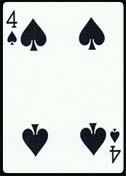 Properties of 4 of Spades
Alternate Names:
Truth/Truce
Keywords / Additional Meanings:
compromise, making a deal, bartering, reconciliation, warning against a second marriage
Description:
Reconciliation, compromise, and signing deals of different kinds is the meaning of this card in a reading. There will be recovery after a period of struggles. The quarrel is resolved by intellectual means.
Astrological / Elemental Correspondence:
Jupiter in Libra