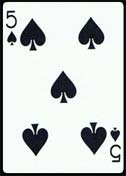 Properties of 5 of Spades
Alternate Names:
Defeat
Keywords / Additional Meanings:
anxiety, setbacks, interferences, success in business, harmony in partners
Description:
This represents a situation where you can't win. There is a sense of weakness and loss attached to this symbol. Setbacks, interference, and anxiety are common interpretations of this card.
Astrological / Elemental Correspondence:
Venus in Aquarius