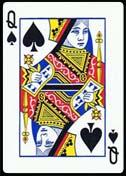 Properties of Queen of Spades
Alternate Names:
None
Keywords / Additional Meanings:
dark haired woman, seductive or unscrupulous, treachery, betrayal, malice, widow
Description:
This symbolises a dark-haired woman who may be attractive, seductive, and/or unscrupulous. You should be on your toes because deception is in the air. Is it possible that you are deceiving yourself?
Astrological / Elemental Correspondence:
Libra – Water of Air