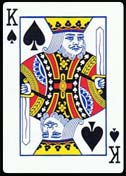 Properties of King of Spades
Alternate Names:
None
Keywords / Additional Meanings:
dark haired man, ambitious, usually successful, his ambition overrides everything else
Description:
This represents a dark-haired man of great ambition. He is accustomed to success and usually gets what he wants. He is very active, skilful, and clever, but can also be deceitful. At worst, he may be a tyrant in waiting.
Astrological / Elemental Correspondence:
Gemini – Fire of Air