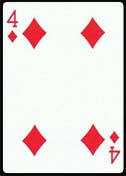 Properties of 4 of Diamonds
Alternate Names:
Power
Keywords / Additional Meanings:
an inheritance, changes for the better, unhappiness from bad friends, betrayal
Description:
Your place is established and you should feel secure in this. Changes for the better are suggested, perhaps an inheritance or upswing in business. Some of your so-called friends may reveal themselves as secret "haters" instead. Try not be hurt or offended by their shortcomings.
Astrological / Elemental Correspondence:
Sun in Capricorn