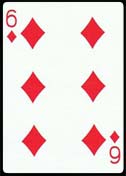 Properties of 6 of Diamonds
Alternate Names:
Success
Keywords / Additional Meanings:
success, victory, fruitfulness, good fortune, abundance
Description:
This card embodies success itself. It suggests you will be influential because others will be looking up to you. Share your success and cultivate a cycle of fruitfulness and good fortune.
Astrological / Elemental Correspondence:
Moon in Taurus