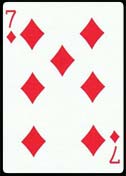 Properties of 7 of Diamonds
Alternate Names:
Failure
Keywords / Additional Meanings:
an unlucky gambler, criticism, a disappointing failure, fighting and losing
Description:
This represents an unfortunate time of loss. Losing is indicated – as in bad luck at gambling, fighting and losing, or building towards the construction of a monumental failure. Sometimes it may be better to just give up.
Astrological / Elemental Correspondence:
Saturn in Taurus