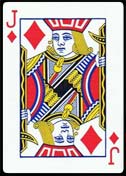 Properties of Jack of Diamonds
Alternate Names:
None
Keywords / Additional Meanings:
a relative, unreliable, selfish or jealous, bad news
Description:
This Jack symbolises a relative. This person may be self-interested. Be wary of a selfish, jealous, or unreliable family member's advice. Alternatively, this card could also represent a bearer of bad news.
Astrological / Elemental Correspondence:
Taurus – Air of Earth