This spiraling five-card layout shows the present situation as it enters the future. The first card is the significator, meaning the overall theme and mood of the question posed. The significator is compounded by the next two cards, showing the current problem and a clue to what might offer a helping hand to overcome this problem. The fourth and fifth cards show the near future, leading into the long-term outcome.
Spread Positions
Your goal
Primary strength
Issues to address
Primary weakness
Issues to address
Outcome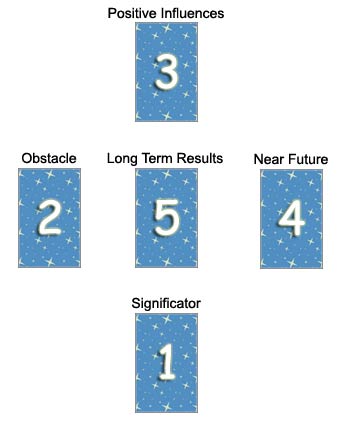 Your Future Mirror Reading
Positive Influences

King of Spades
Obstacle

Queen of Hearts
Long Term Results

8 of Diamonds
What's coming soon

3 of Hearts
The Situation

2 of Hearts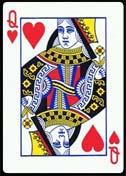 Obstacle
Queen of Hearts
This card suggests a fair-haired woman with a gentle and pleasant personality. She is almost stereotypically passive and receptive. This card is particularly influenced by the energies of the adjacent cards in a reading. She may have the heart of a poet.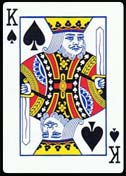 Positive Influences
King of Spades
This represents a dark-haired man of great ambition. He is accustomed to success and usually gets what he wants. He is very active, skilful, and clever, but can also be deceitful. At worst, he may be a tyrant in waiting.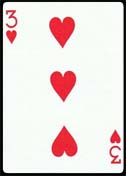 What's coming soon
3 of Hearts
This is the card of overflowing fertility and abundance. This can even mean addition to the family, as in pregnancy or adoption. Kindness, hospitality, and creativity come with this sign.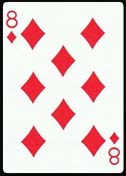 The Long Term Results
8 of Diamonds
This card suggests knowledge of construction, agriculture, or material affairs. There is a slow and steady, unwavering progression – perhaps one who is late to bloom or saving the best for last.