This is a wonderful specialty layout for analysing a relationship on three levels: intellectual or rational thoughts, emotional attitudes or feelings, and postures: meaning the way each person acts in regards to the relationship.
The first card is the significator, meaning the overall personality of the relationship as a whole. On either side of the significator are two columns. The columns show how each person relates to the other on the three levels described above.
Spread Positions
Relationship Significator
Your Partner's Thoughts
Your Partner's Feelings
Your Partner's Posture
Your Posture
Your Feelings
Your Thoughts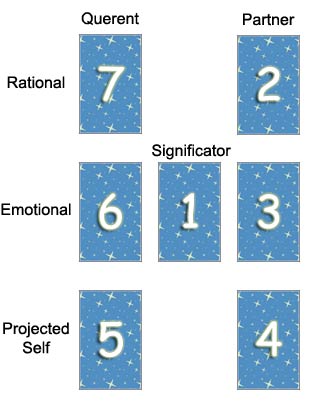 Your Relationship #1 Reading
You
Other Person
Thought

9 of Spades

4 of Clubs
Emotion

4 of Hearts
The Significator

Queen of Diamonds

5 of Diamonds
Posture

10 of Hearts

10 of Spades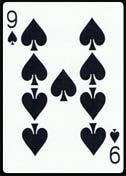 The Querent's Thoughts
9 of Spades
General orneriness and maliciousness are the vibes of this card. This symbolises a period of pain and suffering. There is a possibility of abuse. Be careful to avoid cruelty – both from yourself and others.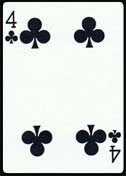 The Other Person's Thoughts
4 of Clubs
This signifies completion and fulfilment – the satisfaction of relaxation after a job well done. This can also mean the solidification of a bond.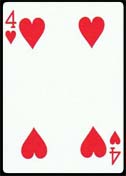 The Querent's Emotions
4 of Hearts
Indulgence in luxury is represented by this sign. This is also a warning of the possibility of excess. You can party as hard as you like, just remember to know your limitations. Always be safe.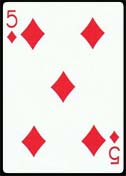 The Other Person's Emotions
5 of Diamonds
This is a symbol of bad mind. Thinking too much about trivial concerns wastes vital energy. To make matters worse, one's thoughts are the basis of their reality, so always keep in mind that worry and fear can actively cause harm in your life if you can't learn to control your thoughts and manifestations.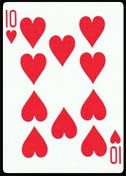 The Querent's External Stance
10 of Hearts
This sign indicates pleasures fulfilled yet somehow incomplete. A brooding passion overflows beyond the limits some are willing to accept. Insatiability is indicated by the presence of this card.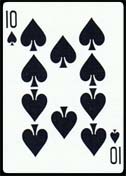 The Other Person's External Stance
10 of Spades
This is regarded as probably the worst symbol in the deck of playing cards. This card means absolute rock bottom, a period of mental breakdown and insanity. There will be an end to misery once the walls of your delusion fall to ruins. On the bright side, there will be a moment of clarity leading to rebirth.