This is a wonderful specialty layout for analysing a relationship on three levels: intellectual or rational thoughts, emotional attitudes or feelings, and postures: meaning the way each person acts in regards to the relationship.
The first card is the significator, meaning the overall personality of the relationship as a whole. On either side of the significator are two columns. The columns show how each person relates to the other on the three levels described above.
Spread Positions
Relationship Significator
Your Partner's Thoughts
Your Partner's Feelings
Your Partner's Posture
Your Posture
Your Feelings
Your Thoughts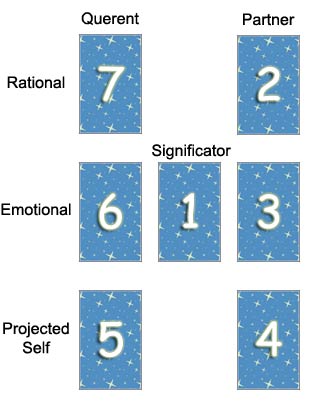 Your Relationship #1 Reading
You
Other Person
Thought

Ace of Hearts

3 of Spades
Emotion

Jack of Hearts
The Significator

King of Clubs

Ace of Diamonds
Posture

3 of Clubs

6 of Spades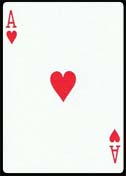 The Querent's Thoughts
Ace of Hearts
The first card of the Hearts suit suggests new attitudes opening one up to friendship, love, and personal contentment that can lead to a shared happiness between like-minded individuals.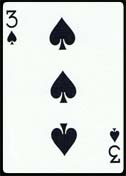 The Other Person's Thoughts
3 of Spades
This sign represents sorrow and sadness. It could indicate a relationship gone wrong, bad feelings, or break ups. Discord and melancholy are indicated by this card. However, if other hearts are adjacent to this card, it means faithfulness and honesty in relationships of all kinds.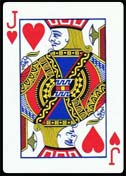 The Querent's Emotions
Jack of Hearts
This Jack indicates a fair-haired younger person whether male or female. This may be a kind, attractive, and romantic person. Perhaps this represents a close friend. This person may appear calm and cool, but under the surface they are concealing a brooding passion.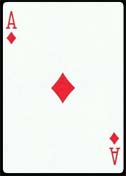 The Other Person's Emotions
Ace of Diamonds
The first card of the Diamonds suit often foretells the arrival of a valuable message or especially meaningful gift. More specifically this can often represent a ring, or more generally can refer to gifts of sustenance or money.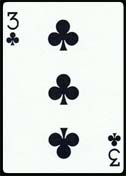 The Querent's External Stance
3 of Clubs
Strong, enduring partnerships are indicated by the presence of this card. No matter which type of relationship this card refers to, it suggests a bond with great longevity.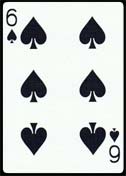 The Other Person's External Stance
6 of Spades
This symbolises a process at work that ultimately leads to success. It is a sign of reassurance that your method is sound, and that perseverance will certainly lead to success.