This is a wonderful specialty layout for analyzing a relationship on 3 levels: the intellectual or rational thoughts, emotional attitudes or feelings, and the postures, meaning the way each person acts in regards to the relationship.
The first card, as usual is the significator, meaning the overall personality of the relationship as a whole. On either side of the significator are 2 columns. The columns show how each person relates to the other on the 3 levels described above.
Spread Positions
Relationship Significator
Your Partner's Thoughts
Your Partner's Feelings
Your Partner's Posture
Your Posture
Your Feelings
Your Thoughts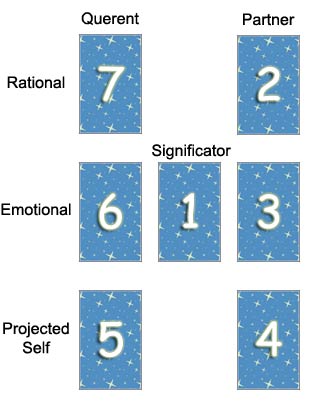 Your Relationship #1 Reading
You
Other Person
Thought

6 of Clubs

6 of Diamonds
Emotion

5 of Clubs
The Significator

4 of Diamonds

Ace of Spades
Posture

10 of Clubs

10 of Hearts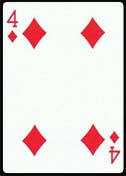 The Significator
4 of Diamonds
Your place is established and you should feel secure in this. Changes for the better are suggested, perhaps an inheritance or upswing in business. Some of your so-called friends may reveal themselves as secret "haters" instead. Try not be hurt or offended by their shortcomings.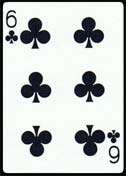 The Querent's Thoughts
6 of Clubs
This card suggests a lucrative business partnership, and opportunities for success in business.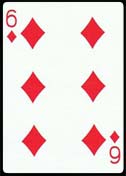 The Other Person's Thoughts
6 of Diamonds
This card embodies success itself. It suggests you will be influential because others will be looking up to you. Share your success and cultivate a cycle of fruitfulness and good fortune.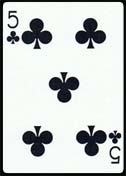 The Querent's Emotions
5 of Clubs
This is a sign of disconnection with the spiritual source. Discontentment with oneself leads to friction in relationships. There may be opposition from friends or associates, quarreling, strife, and failure of projects, but you would be well served to look within as to the source of this.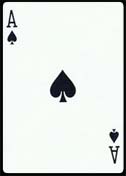 The Other Person's Emotions
Ace of Spades
The first card of the Spades suit suggests awakening to a new way of thinking, leading to a new level of personal awareness as well as spiritual awareness. The dawing of a new enlightenment.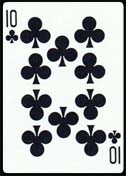 The Querent's External Stance
10 of Clubs
This suggests you may have good fortune but at a cost greater than your gain. Be careful of the possibility of abuse. Do not allow malice or cruelty to take root in your soul. This card can mean entrapment, even emprisonment.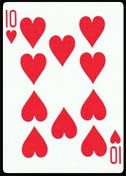 The Other Person's External Stance
10 of Hearts
This sign indicates pleasures fulfilled yet somehow incomplete. A brooding passion overflows beyond the limits some are willing to accept. Insatiability is indicated by the presence of this card.