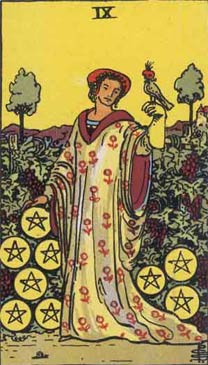 Properties of 9 of Pentacles
Alternate Names:
Gain
Keywords / Additional Meanings:
Prompt fulfilment of what is presaged by neighbouring cards. Reversed: Vain hopes.
Description:
A woman, with a bird upon her wrist, stands amidst a great abundance of grapevines in the garden of a manorial house. It is a wide domain, suggesting plenty in all things. Possibly it is her own possession and testifies to material well-being.
Divinatory Meaning:
Prudence, safety, success, accomplishment, certitude, discernment.
Reversed Description:
Roguery, deception, voided project, bad faith.
Astrological / Elemental Correspondence:
Venus in Virgo