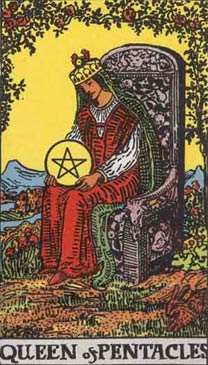 Properties of Queen of Pentacles
Alternate Names:
None
Keywords / Additional Meanings:
Dark woman; presents from a rich relative; rich and happy marriage for a young man. Reversed: An illness.
Description:
The face suggests that of a dark woman, whose qualities might be summed up in the idea of greatness of soul; she has also the serious cast of intelligence; she contemplates her symbol and may see worlds therein.
Divinatory Meaning:
Opulence, generosity, magnificence, security, liberty.
Reversed Description:
Evil, suspicion, suspense, fear, mistrust.
Astrological / Elemental Correspondence:
Capricorn – Water of Ear