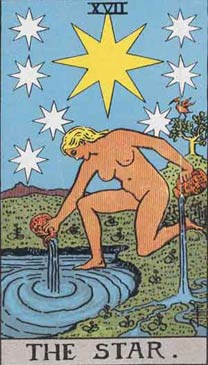 Matters of Beginnings, fertility and birth.
The Star
Under the stars, a nude woman pours out two vials of water, one onto the land, the other into a pond. Opposite the angel of Temperance, her left foot is on the land, her right on the water.

Upright Meaning:

Youth, beauty, gifts, hope, bright prospects, ingenuity, genius, adept, mastery, gratitude, support, thanks, savvy.