This is a wonderful specialty layout for analysing a relationship on three levels: intellectual or rational thoughts, emotional attitudes or feelings, and postures: meaning the way each person acts in regards to the relationship.
The first card is the significator, meaning the overall personality of the relationship as a whole. On either side of the significator are two columns. The columns show how each person relates to the other on the three levels described above.
Spread Positions
Relationship Significator
Your Partner's Thoughts
Your Partner's Feelings
Your Partner's Posture
Your Posture
Your Feelings
Your Thoughts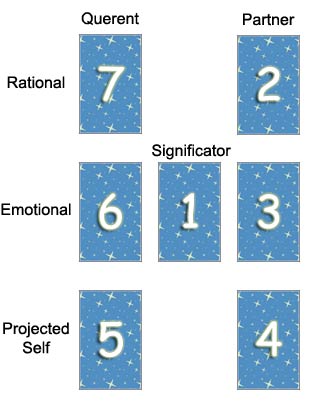 Your Relationship #1 Reading
You
Other Person
Thought

8 of Swords

The Moon
Emotion

The Lovers
The Significator

The Wheel of Fortune

10 of Cups
Posture

Page of Wands

The Hierophant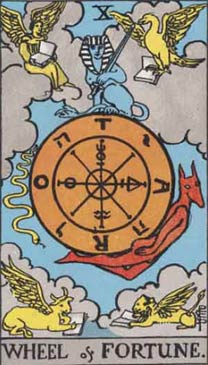 The Significator
The Wheel of Fortune
The Sphinx sits atop a wheel in the sky, symbolic of the wisdom of fate. Other Egyptian characters ride the wheel as it turns, which is surrounded by four cherubs who serve as the guardians of Heaven.

Upright Meaning:

Destiny, success, elevation, luck, felicity, well-being, bliss, euphoria, fun times, good luck, fruition, godsend.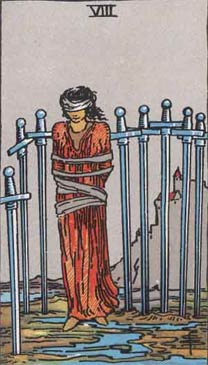 The Querent's Thoughts
8 of Swords
A woman, blindfolded and bound, with the swords of the card around her. Yet it is rather a card of temporary endurance than of irretrievable bondage.

Upright Meaning:

Bad news, violent chagrin, crisis, censure, power in trammels, conflict, calumny, sickness, having one's hands tied, insanity.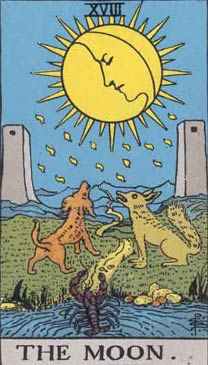 The Other Person's Thoughts
The Moon
A dog and a wolf join in howling at a brilliant full moon situated between two towers. A lobster emerges from the lake, ready to embark on the journey of evolution.

Upright Meaning:

Hidden enemies, lurkers, danger, calumny, darkness, terror, occult forces, error, the unknown, thief in the night, denigration, slander.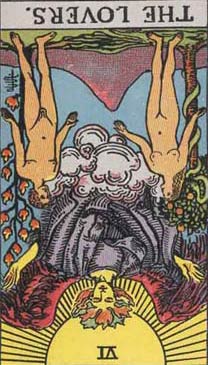 The Querent's Emotions
The Lovers
An angel unifies two lovers which are Adam and Eve in the Garden of Eden.

Reversed Meaning:

Failure, foolish designs, frustrated marriage, lack of empathy, contradiction, abuse, cheating, discord, disruption.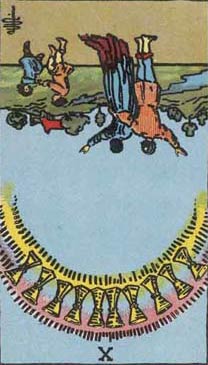 The Other Person's Emotions
10 of Cups
Appearance of Cups in a rainbow; it is contemplated in wonder and ecstasy by a man and woman below, evidently husband and wife. His right arm is about her; his left is raised upward; she raises her right arm. The two children dancing near them have not observed the prodigy but are happy after their own manner. There is a home-scene beyond.

Reversed Meaning:

False heart, indignation, violence, deception, in-satiety.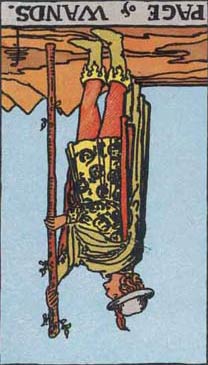 The Querent's External Stance
Page of Wands
A young man stands in the act of proclamation. He is unknown but faithful, and his tidings are strange.

Reversed Meaning:

Anecdotes, announcements, bad news. Also, indecision and the anxiety which accompanies it.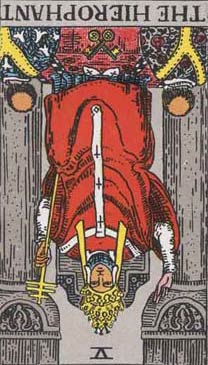 The Other Person's External Stance
The Hierophant
Seated on his throne, the Pope symbolises the male understanding of the spiritual workings of the world and traditional values. Two monks flank him on either side.

Reversed Meaning:

Society, concord, overkindness, weakness, doormat, misinterpretation, misunderstanding.