This is a wonderful specialty layout for analysing a relationship on three levels: intellectual or rational thoughts, emotional attitudes or feelings, and postures: meaning the way each person acts in regards to the relationship.
The first card is the significator, meaning the overall personality of the relationship as a whole. On either side of the significator are two columns. The columns show how each person relates to the other on the three levels described above.
Spread Positions
Relationship Significator
Your Partner's Thoughts
Your Partner's Feelings
Your Partner's Posture
Your Posture
Your Feelings
Your Thoughts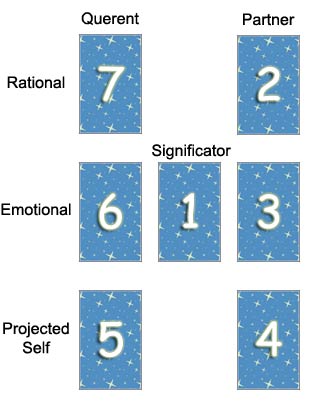 Your Relationship #1 Reading
You
Other Person
Thought

Ace of Pentacles

King of Wands
Emotion

9 of Swords
The Significator

The Moon

10 of Wands
Posture

3 of Swords

6 of Wands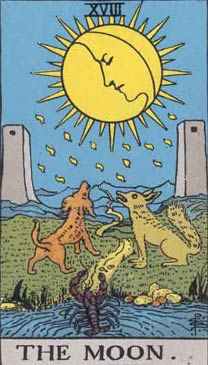 The Significator
The Moon
A dog and a wolf join in howling at a brilliant full moon situated between two towers. A lobster emerges from the lake, ready to embark on the journey of evolution.

Upright Meaning:

Hidden enemies, lurkers, danger, calumny, darkness, terror, occult forces, error, the unknown, thief in the night, denigration, slander.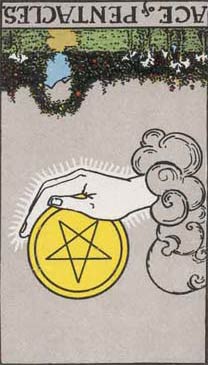 The Querent's Thoughts
Ace of Pentacles
A hand reaching out from a cloud holds up a pentacle.

Reversed Meaning:

The negative side of wealth, malicious intelligence; also great riches, prosperity, comfortable material conditions, but this is to your disadvantage when the card appears reversed.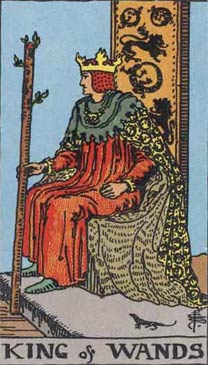 The Other Person's Thoughts
King of Wands
The nature to which this card is attributed is dark, ardent, lithe, animated, impassioned, noble. The King uplifts a flowering wand, and wears what is called a cap of maintenance beneath his crown. He bears the symbol of the lion, which is emblazoned on the back of his throne.

Upright Meaning:

Dark man, friendly, countryman, generally married, honest and conscientious. The card always signifies honesty, and may mean news concerning an unexpected heritage to fall in before very long.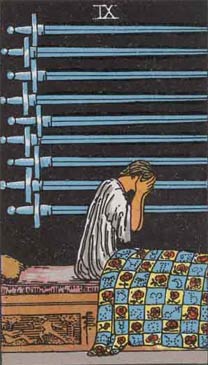 The Querent's Emotions
9 of Swords
One seated on her couch in lamentation, with the swords over her. She is as one who knows no sorrow which is like unto hers. It is a card of utter desolation.

Upright Meaning:

Death, failure, miscarriage, delay, deception, disappointment, despair, nightmares, worry, tension, extreme anxiety, obsession.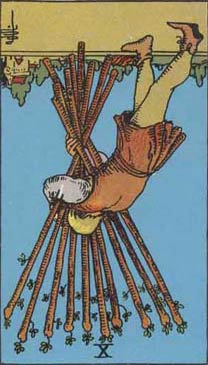 The Other Person's Emotions
10 of Wands
A man oppressed by the weight of the ten staves which he is carrying.

Reversed Meaning:

Oppression, difficulties, intrigues, heavy-handedness, bad luck.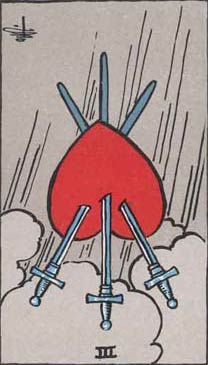 The Querent's External Stance
3 of Swords
Three swords piercing a heart; cloud and rain behind.

Reversed Meaning:

Mental alienation, error, loss, distraction, disorder, confusion, a storm brewing.
The Other Person's External Stance
6 of Wands
A laurelled horseman bears one staff adorned with a laurel crown; footmen with staves are at his side.

Upright Meaning:

A victor triumphing, but it is also great news, such as might be carried in state by the King's courier; it is expectation crowned with its own desire, the crown of hope, and so forth.