This is a wonderful specialty layout for analyzing a relationship on 3 levels: the intellectual or rational thoughts, emotional attitudes or feelings, and the postures, meaning the way each person acts in regards to the relationship.
The first card, as usual is the significator, meaning the overall personality of the relationship as a whole. On either side of the significator are 2 columns. The columns show how each person relates to the other on the 3 levels described above.
Spread Positions
Relationship Significator
Your Partner's Thoughts
Your Partner's Feelings
Your Partner's Posture
Your Posture
Your Feelings
Your Thoughts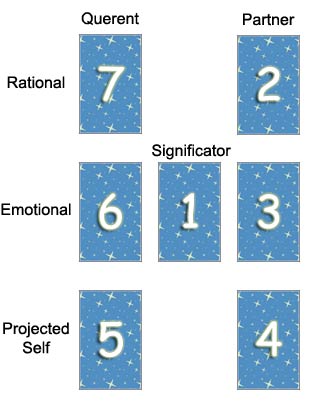 Your Relationship #1 Reading
You
Other Person
Thought

9 of Cups

The Hanged Man
Emotion

9 of Swords
The Significator

7 of Swords

3 of Wands
Posture

4 of Cups

7 of Pentacles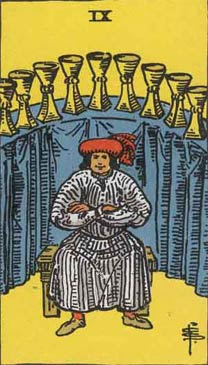 The Querent's Thoughts
9 of Cups
A goodly personage has feasted to his heart's content, and abundant refreshment of wine is on the arched counter behind him, seeming to indicate that the future is also assured. The picture offers the material side only, but there are other aspects.

Upright Meaning:

Concord, contentment, physical bien-etre; also victory, success, advantage; satisfaction for the Querent or person for whom the consultation is made.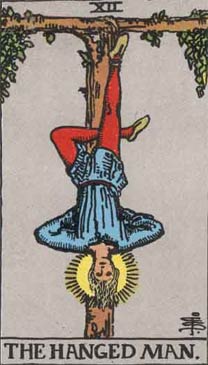 The Other Person's Thoughts
The Hanged Man
A man hangs upside down from the Tau cross. This is a card of self-sacrifice and enlightenment.

Upright Meaning:

Wisdom, circumspection, discernment, trials, sacrifice, augury, prophecy, pause, reflection, ideas, imagination, meditation.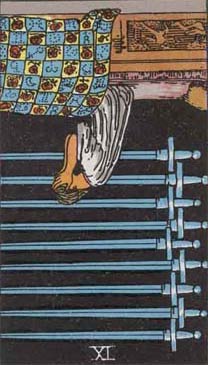 The Querent's Emotions
9 of Swords
One seated on her couch in lamentation, with the swords over her. She is as one who knows no sorrow which is like unto hers. It is a card of utter desolation.

Reversed Meaning:

Imprisonment, suspicion, doubt, reasonable fear, shame, bad vibes, negativity, evil thoughts, despair.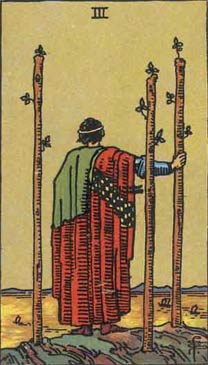 The Other Person's Emotions
3 of Wands
A calm, stately personage, with his back turned, looking from a cliff's edge at ships passing over the sea. Three staves are planted in the ground, and he leans slightly on one of them.

Upright Meaning:

He symbolizes established strength, enterprise, effort, trade, commerce, discovery; those are his ships, bearing his merchandise, which are sailing over the sea. The card also signifies able co-operation in business, as if the successful merchant prince were looking from his side towards yours with a view to help you.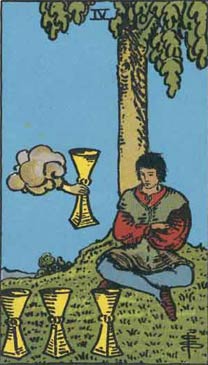 The Querent's External Stance
4 of Cups
A young man is seated under a tree and contemplates three cups set on the grass before him; an arm reaching out from a cloud offers him another cup. His expression notwithstanding is one of discontent with his environment.

Upright Meaning:

Weariness, blended pleasure, disgust, aversion, imaginary vexations, as if the wine of this world had caused satiety only; another wine, as if a fairy gift, is now offered the wastrel, but he sees no consolation therein.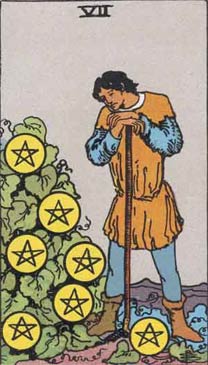 The Other Person's External Stance
7 of Pentacles
A young man, leaning on his staff, looks intently at seven pentacles attached to a clump of greenery on his right; one would say that these were his treasures and that his heart was there.

Upright Meaning:

Money, business sense, barter, ingenuity, purgation, commerce, trade, deal, transaction, good economy, industry.